How will Clique APIs transform your enterprise?
Your 2-minute guide to Clique API and how we empower businesses anywhere and everywhere
Voice, where you want it
Clique's CPaaS APIs and products bring HD quality voice where consumers and business want it. Clique's easy to use SDKs and APIs make it easy for businesses to provide secure and efficient communications by integrating voice, messaging, and other technologies across multiple platforms and end points. Our platform makes it possible to use voice regardless of format, application environment, operating system, device, or location.
The platform
In a nutshell, Clique's APIs power all of our consumer and enterprise solutions. Our Enterprise CPaaS APIs are comprehensively documented and supported by our world-class engineering team to provide the custom implementations that CIOs and product managers need.
Our SDKs enable companies to make use of the advanced feature set and expansive integrations available through our APIs. Developers of cutting-edge applications are using Clique's APIs to add HD voice to VR/AR systems, game engines, and collaboration platforms such as Slack and Teams.
Who are our users?
We have 20 million users in 150 countries who are communicating over 500 million minutes per month across hundreds of enterprises.
Building our team
We're revolutionizing communications by building a team of engineers, sales professionals and problem-solvers who share our vision.
You can see our current job openings here.
Our Executive Team
Andy Powers: Founder & CEO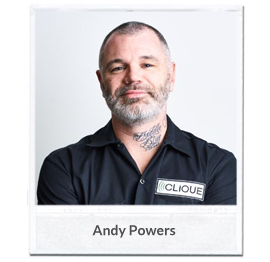 Andy Powers is a coach, coder, business builder, and entrepreneurial philanthropist. Inspired by the presence of big problems and inevitability of simple solutions, he has spent his career designing the future. He's an avid basketball fan and, at an early age, played at a very high level leading to multiple scholarship offers out of high school.
Andy began building computers in high school and, as his basketball career stalled due to injuries, he began his entrepreneurial endeavors in college with RCSI. The company was at the beginning of the Cloud Computing revolution and was instrumental in the inception of web based applications and the creation of NFUSE (acquired by Citrix).
After RCSI, Andy was a part of a number of startups both as investor and founder and in 2003 he founded Reggie Software. With Reggie, Andy built protocols to allow for HTML enabled apps and first became engaged with Roy Feldings Representational state transfers (REST API). Andy found himself obsessed with the information sharing possibilities that were made available by the API, specifically in the communications industry. Inspired to enable project teams to communicate more efficiently, Andy sold Reggie to Blue Phoenix Solutions (MDSYF), and teamed up with two communications experts to start CommuniClique in 2006.
The company began with a product focus with a vision to connect distributed teams on demand. In 2008 CommuniClique spun out the product (which became known as Speek, (acquired by Jive)) and pivoted its focus to the REST API strategy and the new vision of connecting people to conversations that matter began to take form. Today, the company is a world leader in enterprise collaboration and helped pioneer both the CPaaS space, and the API economy as a whole. Clique currently delivers 500mm minutes a month of seamless voice solutions, and 9 petabytes of Chata, to its 3000 enterprise customers.
Andy oversees Clique's overall operations, but, especially enjoys creating the future of communication at CliqueLabs, and focusing on an innovative wellness program for the company's employees and partners. He has also developed the TWO-EIGHT-O initiative – a platform to give the 28mins/day that we all waste waiting for conference calls back to the 2.8bn people without connectivity. 280's first initiative is a system for the world's 60mm displaced to seamlessly connect with their each other, their loved ones, and aid workers.
Concurrently, Andy is a founding partner of Sabotage Institute – a DC based startup laboratory focused on building the future by breaking the conventions of the present. An avid tech investor, Andy has participated in the early rounds of 100s of companies; including Uber, GroupMe, and ArmorText through his investment office, Empower Investments as well LP relationships with multiple funds. He is also director of the Empower Foundation, through which he invests in organizations that promote efficient governance, unencumbered communication, universal human dignity, and his under-connected neighbors in DC metro area.
Andy lives in Northern Virginia with his wife, five kids, horse, and two dogs. He has run over 20 marathons, trains daily with a professional boxer, and spends much of his spare time making funny tee shirts for friends, or coding. His only allergy is to Patagonia vests.
Tim Gentry: President & COO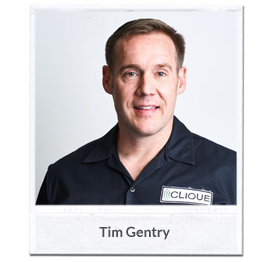 Tim is responsible for the strategic initiatives of Clique. He manages sales and marketing. He also participates on the board of Clique's startups.
Tim is a Harvard Business School Alum, a distinguished member of YPO, and is a thought leader in VoiceTech.
Tim was the CEO / Managing Director for Avaya Asia South Pacific (TPG Asset). He was based in Sydney, Australia, and headed the strategic leadership for Avaya as it delivered high performance networks, new multi-channel communication solutions, and services to the ANZ marketplace.
Before leaving the United States for an international assignment, Tim was the General Manager and SVP for Civilian and Advanced Intelligence Programs and Operations for Nortel Networks. As a senior leader in that capacity, Tim drove to provide solutions to meet the strategic transformation initiatives for Global Governments.
Prior to Nortel and Avaya, Tim provided direction and management for the business design for Adelphia Business Solutions. Tim and his team focused on mergers and acquisitions actions for the parent company and the newly acquired companies; standardizing processes and Go-to-market strategies to improve and streamline the service offerings available to Adelphia's customer base.
Tim was also a Founder and Senior Partner at VGE where he led the management consulting practice that enhanced productivity for clients and established best practices. In addition, he personally led the business process re-engineering and systems implementation of mission-critical financial and security infrastructure.
Dr. Ram Reddy: Chairman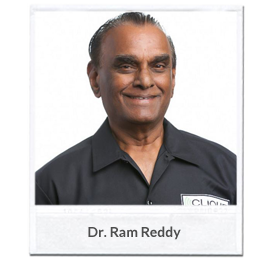 Dr. Reddy is Clique's big deal – big impact rainmaker. He's initiated a number of the group's largest customer and investor relationships. He's been a key component to the company's increase in customer base and revenue growth.
He's a member of TiE and an active participant in a number of other networking communities in and around the DC area and across the United States.
Dr. Reddy was the founder and CEO of APEX Technology Inc., a defense contractor, which specialized in compliance for military systems with the United States Army.
The company partnered with Raytheon (NYSE: RTN) to fulfil a number of multimillion-dollar projects and in 2004 he successfully exited the company through a deal with its largest partner. Dr Reddy graduated from Rutgers University with a PHD in Electrical Engineering and holds degrees from other internationally recognized universities including The Indian Institute of Technology.
Kris Hopkins: Chief Strategy Officer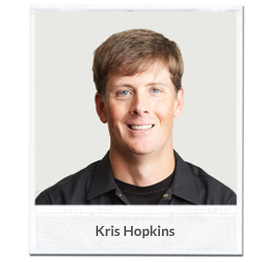 Kris is responsible for leading Clique's technical strategy and engineering teams. Prior to his current leadership role, Kris was Chief Strategy and Product Officer at CafeX Communications. He led engineering, product management, customer support, and strategy.
As a WebRTC start-up focusing on live customer assistance thru mobile & web applications, CafeX delivered upon a strong history of unified communications technologies and a proven management team to bring the company to the forefront of the collaboration industry.
Previously a VP of Strategic Product Management at Acme Packet, Inc. (Bedford, MA), Kris successfully sold the software business of Newfound Communications to Acme Packet (Nasdaq: APKT) and spun out the cloud notification business into Surgent Networks, LLC. Kris remains a board member of Surgent Networks.
As CEO of Newfound Communications, Kris was responsible for the overall vision, leadership, and direction of the company. An experienced technical leader, Kris is the driving force behind Newfound's technology and software. Prior to founding Newfound, Kris was a manager of business development for service providers at Lucent Technologies.
Kris is a graduate of Cornell University where he was the recipient of the Dorman Family Award for Entrepreneurship and Personal Enterprise Excellence.
John "JC" Carleton: Director of Clique Labs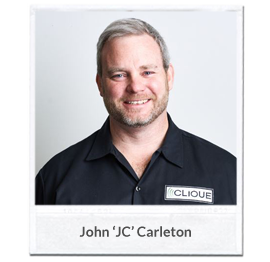 JC drives innovation at Clique through our Clique Labs Division. JC and his team work to enable cutting-edge customer and industry-focused features on the Clique platform through experimentation and partner integrations. JC's unique technology, management, and global background enables him to find the best partners for Clique no matter where they are located. JC is passionate about getting innovative features tested and into the hands of our enterprise customers to keep Clique on the leading edge of Communications.
Prior to joining Communiclique, JC was a career member of the United States Foreign Service serving in embassy management in Afghanistan, Fiji, Tajikistan, Kazakhstan, France, Vietnam, and Jamaica. From 1998-2001, JC worked in product development for Webley Systems where he launched the first local-number unified communications product with number portability.
JC has invested in startups for over a decade and was one of Clique's first investors in 2007.
JC is a graduate of the University of Richmond with a degree in Leadership and Economics. While overseas he obtained an MBA with a concentration in Global Management and Accounting in 2007. JC holds a CPA license in Virginia as well as a CGFM and CGMA certificate. He lives in Arlington, VA with his wife and three children.
Alex Kurganov: CTO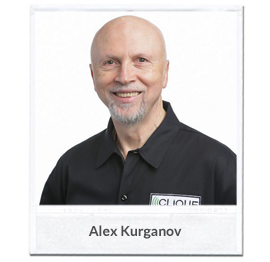 Alex leads Clique's next-generation development efforts in multi-party voice APIs and SDKs as CTO.
His work in integrating simple multiparty voice into common team chat and gaming environments is groundbreaking.
Alex has 8 issued patents ( 6,721,705; 6,775,264; 6,807,257; and 7,076,431 and Canadian patent No. 2,321,697 and more https://www.uspto.gov/ ) in the field of speech enabled Unified Communications.
Alex has a track record of building companies and products from ground zero and operating large converged network based platforms and applications. He was co-founder and CTO of the first voice-activated Unified Communications company Webley/CommuniKate 1998-2010. Earlier he also built Vail Systems from the ground up as its VP of Engineering from 1991-1998.
Alex's strong customer focus enables him to keep the customer first while having in-depth architecture and code level understanding of voice and data networks (PSTN, VoIP), protocols ( SIP ), platforms (messaging, speech recognition, interactive voice response, RDBMS), web and mobile-centric architectures and web services, applications (Unified Communications), user interfaces (speech, GUI).
Marc Lopez: Vice President Sales – West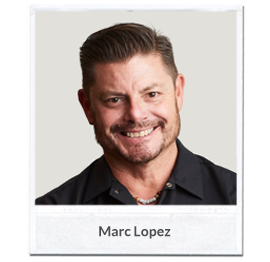 Marc Lopez leads Western US Sales for Clique. is the former Vice-President of Sales for Global Collaboration Services at PGi, a global cloud provider of collaboration software and services with $567M in revenues and 50,000 business customers.
He led the NA Field sales organization that provides global collaboration solutions for large global enterprise customers. Marc and his teams helped businesses develop an integrated collaboration strategy including cloud collaboration services, unified communications, and mobility.
He believes that, "Mobile enterprise collaboration is the future and will have a profound impact on all businesses large and small". We're radically transforming how individuals work and maximize business outcomes." Marc was a key player driving PGI NA Field sales success globally.
He was previously the Sr. Director of Sales at Level 3 where he oversaw their social media and content group. He was responsible for driving revenue above 20 percent, year after year. His expertise in business development as well led to network initiatives with Linkedin, SFDC, Cisco, Adobe and EA Sports.
Prior to his career in Technology, Marc was the former President of the Hispanic Chamber of Commerce in San Francisco. He is responsible for many of the programs still in place today allowing for advancements for the Hispanic business community both personally and professionally.
Marc also had a career in professional sports where he was drafted by the Philadelphia Phillies in 1987 and enjoyed a successful minor league career before an injury sidelined him and ended his career. He earned a baseball scholarship to the University of Nevada Las Vegas and finished his undergraduate studies at San Francisco State University. Marc completed his graduate studies at Golden Gate University in San Francisco in International Relations-International Business.
Currently, Marc resides in Northern California with his wife Shawnda and their three children, Isabella, Jacob, and Marc.
James Taylor: SVP Sales Engineering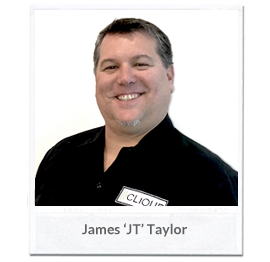 James "JT" Taylor is a proven telecommunications executive with over 20-years of experience. He received his B.S. in Systems Engineering from the United States Military Academy at West Point where he was a member of the baseball team.
From the Academy, James served his country for almost 6-years as a Field Artilleryman serving in several leadership positions. He's also a graduate of the US Army Airborne School. JT spent the past 6+ years dedicating himself to the enterprise communications business.
Prior to joining Clique, he served as the Senior Director of Sales Consulting for the global enterprise business within the Communications Global Business Unit at Oracle Corporation. He led a large team of pre-sales professionals proposing complex unified communications, contact center, and cloud-based communication solutions. At Acme Packet, he held several sales engineering positions.
During his tenure at Acme Packet, he helped expand the enterprise business three-fold and transitioned it into a global organization, all the while navigating the very changing environment created by the acquisition.
His telecommunications career started with Frontier Communications in Southfield, Michigan where he managed a team of provisioning technicians. After two years of proven delivery, and the Global Crossing acquisition, he was hand-selected to expand the network and move to Phoenix, Arizona where he led a project to build and manage a new point-of-presence. Prior to his move to Acme Packet, he spent 7+ years as head of Voice Sustaining Engineering at Global Crossing.
James is an avid Pearl Jam fan and enjoys traveling the country with his classmates to see the band. He also enjoys snowboarding, golf, and attending his oldest son, Ryan's, football games.
James has 5 children ranging from 21 (Jordan) to 3 (Jacob) – or the Jordan-to-Jacob journey as he likes to say. He currently resides in Detroit, Michigan with his wife Amy and their three children, Logan, Chloe, and Jacob.