Google Home joins Amazon's Alexa in enabling users to shop for goods by voice command at Costco, Whole Foods, Raley's, and other stores
Shopping by voice has a new contender, as Google Home debuts a new feature that lets users order goods online from Google Express partner companies, just by talking to Google's home assistant.

To get the whole thing rolling, users simply need to say "OK Google, order ___" and the name of the product they wish to order, for instance, "paper towels".

A similar feature had already been introduced by Amazon Echo, which already allows users with an Amazon Prime membership to voice-shop by talking to voice assistant, Alexa. And, at a stroke, the move pitches the Mountain View behemoth head-to-head with the world's Numero Uno retailer.
"OK Google, order a '58 Les Paul Special and a can of Whiskas"
Google allows users to order from a variety of companies including Costco, Whole Foods, Bed Bath & Beyond, Petsmart, Walgreens, Fry's, and Guitar Center.

The list of Google Express partners varies according to location, but orders from some stores are available nationwide.
Depending upon where a user is situated, Google Express offers same-day delivery, overnight service or only 2-day or 3-day delivery services.
To promote the new service, Google won't charge service fees when ordering products through Google Home until the end of April 2017.
Configuration is relatively straightforward; users need to first set up a payment method in their Google Home app, and then decide if they would like to buy a membership to Google Express, (a service equivalent to Amazon Prime). Google's Express service costs $95/year or $10/month, although without subscribing, delivery fees start at $4.99.
An established trend comes to retail
Ordering products by voice is the latest battleground in the increasingly ferocious retail war, as voice-based computing continues to evolve and technologies allowing human-machine interaction become increasingly sophisticated.
Voice-computing evangelist, Brian Roemmele, predicted that, in a decade, 50% of our interactions with computers will happen through voice.
Voice-enabled hardware, such as Google Home or Amazon Alexa, is now finding its place in many people's homes, and virtual assistants are being integrated into all kinds of technological objects, from smartphones to cars, TVs, and even refrigerators.
Meanwhile, tech companies are developing sophisticated Artificial Intelligence and machine learning tools, allowing for smarter technology that can learn from past data and become more efficient in time.
Voice technology driving revenues
With U.S. e-commerce revenues set to top-out at over $350 billion in 2017, the growth of online shopping shows no sign of abatement. And, now that we can simply dictate our shopping list to our home assistants, that trend isn't going to cool, any time soon.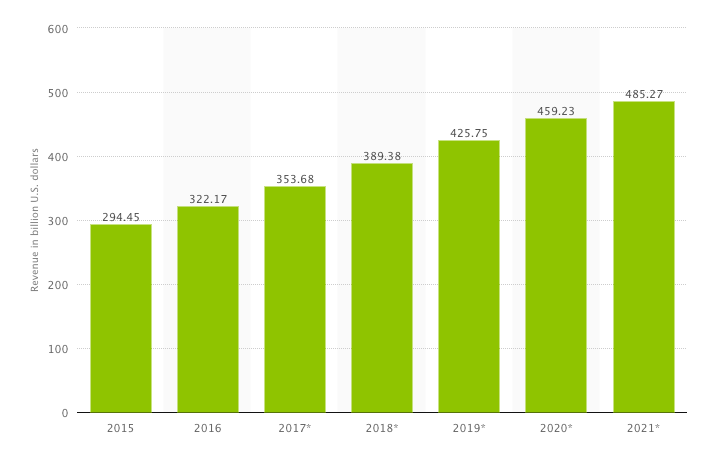 E-commerce Forecasts. USA. 2015-2021Source: Statista
Shopping using AI assistants is likely to become a new sub-industry of web-retail, as more people are already shopping online and the next step of using virtual assistants to do so, seems like a pretty logical evolutionary step.

The possibilities of voice-enabled technology are truly limitless and new features such as the one introduced by Amazon Alexa and Google Home might be early signs of a voice-reliant future that is gradually taking shape.