Google launches online configurator to super-size any Android device to users' unique preferences
In a move that is deliciously simple, Google has launched a new micro-site, #myAndroid, which aims to customize Android users' devices to the way they live their lives.
Yes, it does appear simple yet it is as complex as human whimsy, itself. Think; a multi-variate, 3D love-child of a Burger King commercial and chess, and that is what #myAndroid serves up.
Google is positioning this as a "taste test", promising on the splash screen that, "There are tons of ways to make Android your own, but here's a great place to start. Take a minute to answer these quick, fun questions, and we'll find the right home screen for you."
Can I take your order, please?
On the face of it, users are led through a series of either/or and sometimes more abstract and qualitative questions. The answers then translate into a curated selection of tasty solutions from the Play Store.
The quiz will indeed work as a quick, fun, stick of digital chewing gum. But, it is more than that; it digs deeper into users' design preferences (a huge field in its own right), as well as what they actually use their device for; gaming, messaging, work, play and much more. It even probes as to whether you are a rookie Android user or a old-stager when it comes your experience (and presumably, understanding) of the OS.
Consequently, it is worth taking a moment or three to properly consider these design and usage preferences in order for the back-end to work its magic and prepare these personalized recommendations.
It works across the entire device portfolio - phones, wearables, TVs, tablets and automotive but, in our tests, the micro-site doesn't even get to first-base on Firefox. Similar problems were being reported below-the-line by Chrome users of the popular Digital Trends website.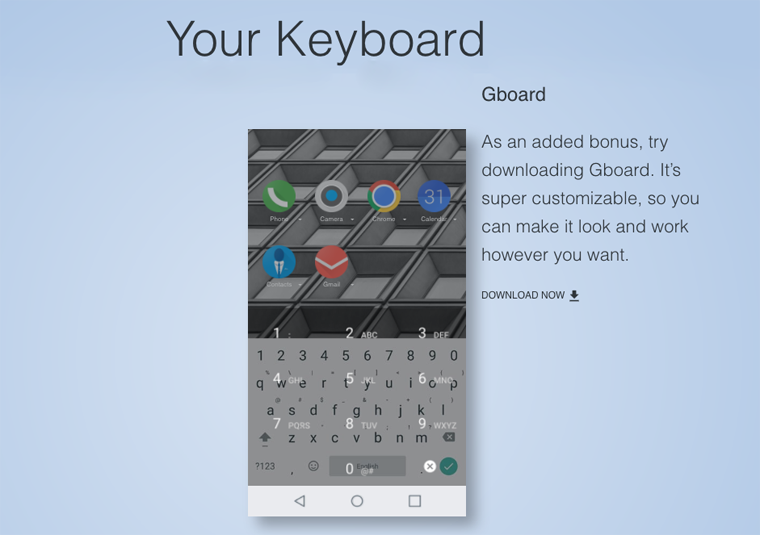 Google Screen Grab
Once we did manage to fire it up, we put it through its paces at Clique Towers and the results were startlingly relevant. #myAndroid proposed a selection of apps, widgets, icon packs, wallpapers and interfaces including, in one instance, the effortlessly cool and intuitive multi-language keyboard, GBoard, which also includes a potty-mouth filter by default.
Thankfully, we were able to disarm that with one simple swipe...
So, yes, the #myAndroid configurator serves a practical purpose for the individual user. We can also see it being eagerly adopted by retail store staff. What could sell a handset (or any other device) more effectively than empowering customers to pre-configure it exactly to their own preferences? Those customers will sell it to themselves!
Without a doubt, unsuspecting and impulse-prone shoppers are going to be walking out of stores proudly clutching the device they want and which just so happens to be earning the sales clerk the weightiest commissions.
You want large fries with that?
These are early days but, from what we can see, this is another instance of Apple being caught flat-footed by its own entire business model. Whilst many Apple users delight in the rigid and walled aspects of the design ethos - "fanbois" being the less than generous moniker - others are bound to be won over by the benefits promised by #myAndroid.
With a mobile user base some five times that of Apple's iOS, Android is now within touching distance of the once-mighty Microsoft Windows and is set to become the world's pre-eminent OS across all devices at some stage within probably the next few months.
By adding the "your way, you got it" sauce to the customer proposition, #myAndroid appears all set to put the icing on the cake.