The tech giant enters the dog-fight for best enterprise communication app by introducing a new version of Hangouts
It is being reported that Google is easing itself in to the enterprise communication realm with its new 'Meet by Hangouts' app, specifically designed for enterprise use.
The new service, which is the latest addition to Google's G-suite range of business products, should allow for HD videoconferences in business settings.

While Hangouts offers video calls with a maximum of 10 people, Meet broadens conferencing possibilities by supporting high definition video meetings with up to 30 participants.

Meet also includes tools that make calls easier when travelling, such as dial-in numbers (only available to Enterprise Edition customers), links to join calls, and integration with G-Suite services, such as Gmail and Calendar.
Now you see it, now you don't
The app was live for a few hours and was then pulled from the App Store, but the URL version is still working.

The web page is similar to the traditional version of Hangouts, but instead of the call or text chat option, users can enter a meeting code to join a meeting, and can see what meetings they have scheduled.
Google does not seem to have officially released the app just yet, as it's no longer present on the App Store and the web service does not yet allow users to schedule calls.

The company could have mistakenly placed the app online for a few hours when it was spotted by Tech Crunch and they screen-grabbed the app in action. Hey, anything is possible...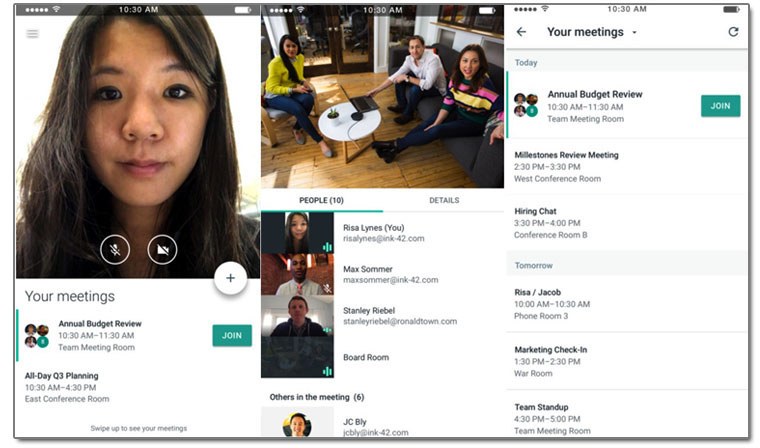 Screen Grab via Tech Crunch
Unified communication services (UC) for the workplace are 'the next hot thing', and numerous tech companies are now developing their own business-oriented platforms.


Even Facebook, which started off as a social media platform, has recently released an enterprise communication service called Facebook At Work.

The tech giant might have realized that Gmail and other G-suite services are no longer a convincing stand-alone solution for internal business communication and decided to start introducing new options to attract enterprise customers.
In addition to Hangouts, Google previously tried launching Duo and Allo, a messaging app and a video-only communication service similar to FaceTime, but neither of the two seems to have properly taken off.
Can Google get it right this time?
Hangouts proved to be more enduring and it will be interesting to see whether this Enterprise version of the app is able to grasp the attention of business clients. And, if Google really is serious, it can, of course, muster its combined and considerable fire-power through everything from Adsense to its core search business, to drive customer awareness through the roof within a matter of hours.

In fact, they'll need to. The new video conferencing app will be competing with a growing number of services such as Skype for Business, Fuze, Chime and Spark.
This small taster of 'Meet by Google Hangouts', followed by the app mysteriously disappearing into thin air, suggests that the tech giant will be announcing the app to the public shortly.

We shall keep an eye out for the arrival of this new player within the fast-growing range of enterprise communication offerings.