A quick but fascinating history lesson. Every day's a school day at Clique!
In San Francisco, New York City, Jekyll Island, and the White House, history was made on Jan. 25, 1915. The Model T was less than a decade old, the Wright Brothers had flown at Kitty Hawk just a dozen years before, and zippers and stainless steel were in the process of being invented.
In-home electricity was novel, the Band-Aid was still a few years away, and sliced bread wouldn't be available in stores for more than a decade.
But on that day, a culture-changing technology that seems much more modern had its debut – the telephone conference call.
In 1909, the president of AT&T, Theodore Vail, had promised to develop transcontinental telephone service by the time of the Panama-Pacific International Exposition, which was then six years away. The exposition commemorated the opening of the Panama Canal. AT&T had a problem, though. The necessary technology didn't exist.
By 1915, the technical hurdles had been cleared, a single copper-wire line had been constructed from coast to coast, and on that January day, Alexander Graham Bell picked up a phone in New York City and was put through to his assistant, Thomas Watson, in San Francisco.
Mr. Vail joined the call from Georgia, President Woodrow Wilson connected from Washington, and the mayors of New York and San Francisco appeared. All together, the proceedings took three and a half hours. Soon thereafter, the line was opened for commercial service.
At that time, adjusted for inflation, a three-minute call would have cost close to $500.Fast forward to the mid-1940s. A Bulgarian inventor who had emigrated to the United States in 1921, Assen Jordanoff, came out with the Jordaphone. It was the precursor to modern speakerphones, as well as to the answering machine and tape recorder.
(The Popular Mechanics article references "individual telephones or headsets," implying that multi-party calling was then possible, presumably depending on someone setting up the switchboard correctly.)
Around 1956, according to some sources, Bell Labs started work on the first proper multi-party calling system. In 1964, callers in New York City and at Disneyland, in Anaheim, CA, took part in the first video conference call. That video-phone network was limited and very pricey, though, so the service didn't take off commercially at the time.
Since then, myriad innovations in the telecommunications field have spread, built upon each other, and contributed to today's variety of group-calling options.
Ham radio started in the early 20th century and spread over the following decades; CB radio started in mid-century and gained in popularity in the 1970s; the Internet, of course, multiplied options, lowered barriers to entry, and continues to be the platform for rapidly advancing innovations.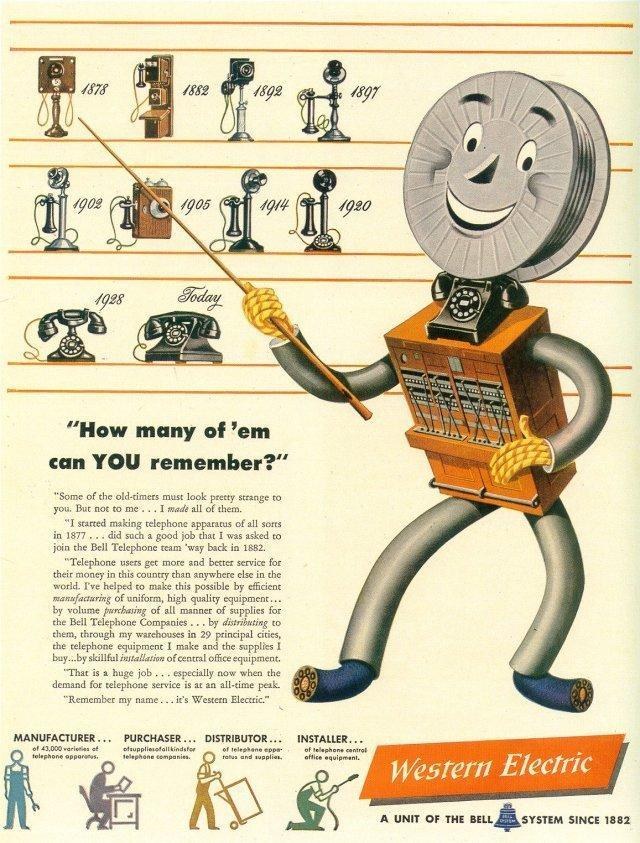 Bell Advertisement circa 1937
Now, it's easier than ever to call into a conference bridge, connect with colleagues, and get business done without having to leave your desk. There are more companies offering more tailor-made solutions than ever before. And for smaller calls that don't require sophisticated bridging systems, as long as you and the other members of your conversation group have Skype (or Google Duo, or FaceTime, or Facebook Messenger …), you can hook up without installing extensive software and hardware systems, often for free.
In a century, a single line of copper wire has unspooled into a multi-billion-dollar industry that keeps entire business and social networks afloat. Not bad for an immigrant…