Lazy stereotypes about women in tech still leave a nasty taste in the mouth
Secrets deodorant has aired a new commercial as part of their 'Stress Test' series of ads, which aims to highlight sexism in the tech space. All it does is show how nerdy women in tech are expected to be. And that sucks.
It features two young women, one wearing spectacles and the other in a sort of childish 'school-girl' attire, practising a pitch in an elevator for their tech startup, as they are to soon present it to what appears to be a male investor.
The whole 'Stress Test' campaign by the American personal care brand is supposed to show us some of the 'stress tests' that women living in the modern era have to deal with every day. These include trying to ask their boss for a raise, proposing to their boyfriend, saying I love you first by text message, and being accepted as transsexual women.
The irony is, Secrets' pitch commercial highlights a further challenge that women within the tech industry have to deal with everyday: stereotypes.
"Oh, so she's a software engineer? She must be a real geek". You can immediately picture this poor lady with her glasses and braces fiddling with her computer.
You want facts? We got facts
Today, approximately 18% of computer science graduates in the US are women, when in 1984 the number was around 37%. Surely we should conclude that either most modern girls are born with a mysterious computer intolerance, or something is putting them off from entering a field where they would either be perceived as geeks or as awkwardly inadequate.
The sad truth is that, for all they know, they might actually be really great at coding.
In fact, some of the greatest computer engineers in history were women, and they were not awkward and antisocial geeks, but normal human beings who had relationships, happy marriages and even children.
History offers examples of great women such as Ginny Rometty, Margaret Hamilton and Joan Clarke, strong and charismatic individuals who paved the road of computer engineering.
Ginny Rometty is the current CEO of IBM, who worked on bringing the company's Artificial Intelligence assistant Watson to life. Rometty, who specialised in mechanical engineering, has often spoken to encourage women not to second guess themselves and follow their passions.
Then there's Joan Clarke, the mathematician who worked side by side with Alan Turing, who many might know as Keira Knightley's character in the movie, The Imitation Game.
And, last but not least, very few people know that a woman coded the error-detection software that ensured the accomplishment of NASA's Apollo 11 mission, which put man on the moon. Pioneer software engineer Margaret Hamilton just recently received the Presidential Medal of Freedom from President Obama for her essential contribution in what is believed to be one of the greatest scientific achievements in history.
I had the chance to interview Hamilton a few months back, and at 80 years old I can confidently say she was one of the most fascinating and intelligent individuals I have ever had the towering privilege of talking to.
And yet stereotypes about tech-savvy women are still populating the industry, with ads such as this by Secrets inadvertently reinforcing them.
Kicking back
Girls Who Code, an organisation that aims to close the gender gap in technology, released an ironic video called 'Why can't girls code?' that sums up the idiocy of stereotypes associated with women in tech.
Surely it cannot be that a brilliant, outgoing and intriguing woman decides to pursue a STEM career. The ancient stereotype of women as either promiscuous but idiotic or smart and unappealing is re-affirming itself through history.
We have unearthed a 1980s Yugoslavian computer magazine, Računari, providing an example from the other end of the spectrum (http://flashbak.com/yugoslavian-computer-magazine-cover-girls-of-the-1980s-90s-370271/), with half-dressed women in sexy poses flashing their bits next to computers. Yes, you guessed it, the relentless boiler-plating and rampant sexism even managed to outlive communism.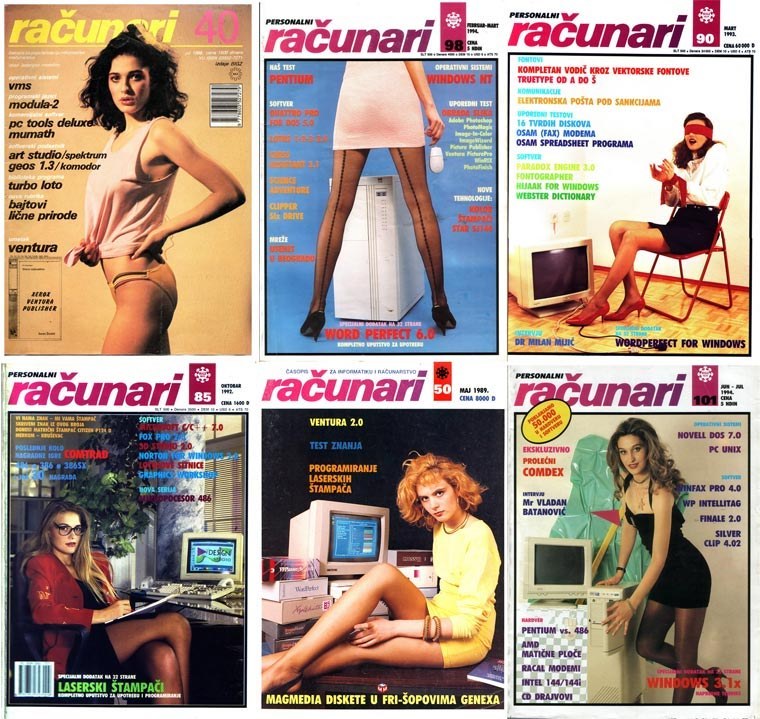 More sexism and a decent discussion at; http://flashbak.com/yugoslavian-computer-magazine-cover-girls-of-the-1980s-90s-370271/
So, we appear to have evolved from women as sexy advertisement items that persuade men to buy the latest brand of computers, to geeky women awkwardly trying to establish themselves within the tech industry.
It's not rocket science
What would be truly great is to finally start seeing new portrayals of women in tech, presenting them just as they are: brave, gifted and fully-fledged individuals. Or simply "normal", whatever that might be. For crying out loud, it's not rocket (Apollo or otherwise) science; the Secrets brand is in the Procter & Gamble stable with a whopping $18 billion promotional budget.
Couldn't they have asked a few women in tech about, not just their challenges, but also their portrayal before shooting this commercial? Who knows, we might have given them a piece of our mind – for free.